[b]SUREFIRE WEAPON LIGHT
RECHARGEABLE CONVERSION
345 LUMENS
TWO HOURS RUN TIME
CHARGER INCLUDED
$175 SHIPPED
OR $135 FOR THE FLASHLIGHT
Hi guys,
I have made a rechargeable conversion of a Surefire 6P flashlight, into a weapon light of 345 lumens.
Of course Surefire have one, but it is 120 lumens for 20 minutes, using two of the 123's batteries ($4) every 20 minutes and costing $380
So, I though I could do better.
http://www.surefire.com/M951XM07-with-D ... crew-Mount
You can mount this baby in a 5.56 mm a 50 caliber or a shotgun, it will shrug recoil no matter what caliber you shoot.
How come?
I have machined the interior of the Surefire body, to accept the use of a premium quality Lithium Ion rechargeable battery. This machining operation left a lip of metal that trap the battery and make it immoveable.
No matter how strong is the recoil the battery is trapped inside the body with no place to go. Others lights allow the battery to move forward under recoil and batter the lamp.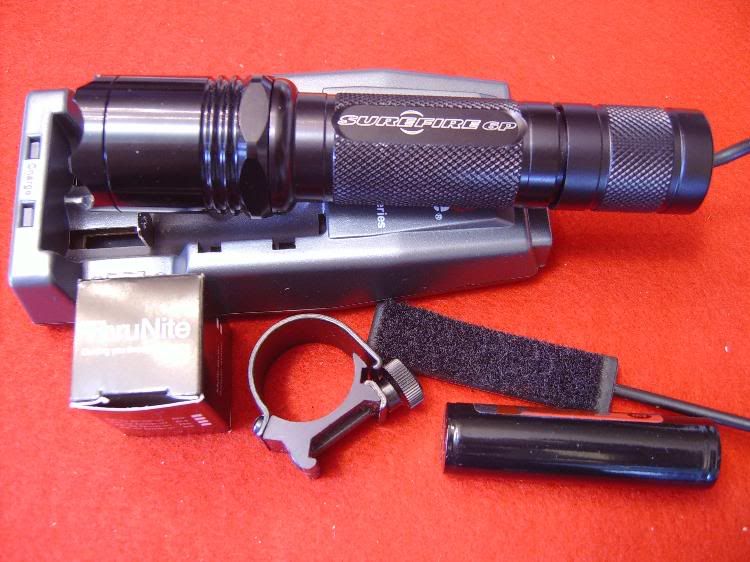 The special machined Surefire body is a part of the equation.
The Lamp is a new one it is the new Cree R-5 and output and incredible 345 lumens (well more than any Surefire weapon light)
The tail cap has a remote cable switch with pressure pad, so you can place it on the stock of your rifle or shotgun, under your thumb. Yes thumb pressure will activate the light.
Usually this type of light uses 123